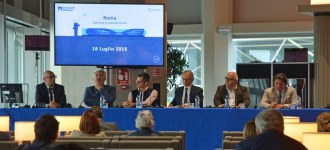 Fiumicino the European gateway to China
The connection between the two Countries has been further strengthened. Unified growth strategy launched today between carriers, tour operators and institutions at the meeting organised by ADR and Unindustria
Fiumicino Airport today hosted in the E Boarding Area for International Flights Extra Schengen a work day on the development of the aviation and tourism system between Italy and China. It is one of the main appointments of the EU-China tourism year, inaugurated last January, organised by Aeroporti di Roma and Unindustria.
During the conference, the largest industrial and institutional companies involved in the exchange between the two countries (ADR. public and private Chinese carriers, tour operators, suppliers of digital services), agreed on the need to launch a uniform strategy to further develop the economic development and traffic opportunities to and from China, through Rome and the main national airport. The "New Silk Road" which unites Asia and European starts and ends in Italy and Leonardo da Vinci represents the principal Italian gateway for the traffic between the two countries, with 25 flights per week to eight destinations connected by direct flights (Beijing with Air China; Shanghai and Wenzhou with China Eastern; Canton and Wuhan with China Southern; Xi'an, Chongqing and Haikou with Hainan Airlines).
It is one of the most extensive networks in terms of coverage in Europe, provided by the three large Chinese government carriers, Air China, China Eastern and China Southern, and the leading private carriers, permanently connected to Fiumicino, which has become their strategic point of reference for access to Italy and Europe. In 2017, 750,000 passengers travelled on the carriers operating between Rome and Greater China, a 10% growth compared to 2016 and 13.5% relative to just the Chinese market.
The result was achieved also thanks to the increased number of passengers per flight, which went from 76.7% to 80.8%, +4% compared to 2016. Cargo transport also increased by approx. 30% compared to 2016, reaching 30,000 tons. These are significant numbers that stem also from the constant quest for high standards of quality and operations that guide the ADR strategy when providing services to passengers and carriers.
The Leonardo da Vinci airport in fact recently earned the "Best Airport Award" 2018 which is added to the awards already earned this year such as the "World's Most Improved Airport", the Skytrax 4 Stars and the "Airport Service Quality Award" of ACI Europe. In addition, relative to the services dedicated directly to Chinese travellers, the airport launched a focused welcome some time ago.