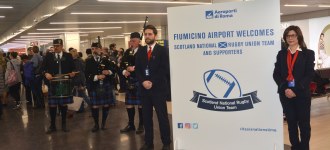 Six Nations: Scottish National rugby team met with bagpipes in Fiumicino
Athletes and fans travelling to the match at Rome's Stadio Olimpico were welcomed by ADR's kilted flash mob. Flower of Scotland resounded throughout the Terminals
The Scottish National Rugby team and fans were given a special welcome at Leonardo da Vinci airport with two pipers from the City of Rome Pipe Band (the capital's first Scottish drum and pipe who will officially play at the Six Nations Championship), hired by ADR to charm passengers in the airport.
Tourists and airport staff were awed by the unusual instruments played by musicians, entirely kitted out in kilts, who played traditional Scottish tunes including "Flower of Scotland" and "Scotland the Brave". Pleasantly surprised, the Scottish athletes took selfies with the many Rugby-curious and supporters waiting to collect their luggage at Fiumicino.
The airport's enthusiasm and sporting welcome for the Six Nations Championship matches are part of "#its6nationstime", a series of initiatives put into play by ADR to celebrate one of the fairest sports, one characterised by the spirit of solidarity, respect, sacrifice and friendship. What's more, in the days before and after the match, Scottish supporters who have come to Rome for the tournament can take advantage of the bespoke menus and discounts offered by the airport's restaurants.
Aeroporti di Roma has led numerous entertainment and cultural initiatives for passenger enjoyment during their time in Fiumicino Airport: concerts, ballets and soon-to-come book presentations have made the airport a genuine place of culture and a window onto the capital's biggest events