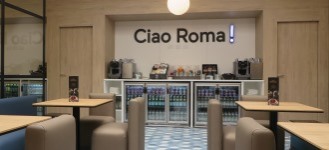 Fiumicino welcomes "Air Rooms"
The new structure is open to all passengers, with useful and high-quality services for relaxing in the airport between flights
A new service with an international level of quality has been added to the Leonardo da Vinci airport thanks to the partnership between Aeroporti di Roma and GIS, a company specialised in VIP Lounge management and present in 23 airports in 8 countries worldwide.
Opened today at Fiumicino, the "Arrival Lounge & Air Rooms" area is an innovative structure designed to welcome all passengers who need to relax – or work – in a quiet place with comfortable amenities before or after their flight.
Situated in an area open to the public, the lounge can be reached easily from the Terminals and the parking facilities in T3. Wi-Fi, drinks and comfortable seating are the basic welcome service for anyone with an access ticket, which can then be used with additional offers depending on individual requirements.
One of the structure's highlights are the new "Air Rooms": 29 rooms designed for flyers, with flexible booking depending on the needs of each passenger. Availability ranges from several days to a few hours, meaning they can even be used to simply take a shower before jetting off again. It is also possible to order hot food for all dietary requirements, or rent a perfectly equipped meeting room with Wi-Fi, to make the most of your available working hours. Also available is the "Meet & Greet" service, which guarantees exclusive airport assistance and includes fast track through security checks and access to the lounge, with staff accompanying passengers until they board.
"HelloSky wanted to make the start of the journey comfortable, relaxing and productive," said Josep Munné, GIS Chairman. "We offer a high-quality experience at the fraction of the normal price. An innovative range of services suited to the needs of the modern flyer."
"From today, ADR hospitality extends to the airport terminals, with a lounge designed to meet the needs of people travelling by air for business or leisure," said Ugo de Carolis, CEO of ADR. "So we are building on the airport's capacity to meet the requirements of national and international passengers with high-quality services. We are satisfied with this journey with GIS, whose know-how has already proved to be an optimal partner in improving airport experience," added de Carolis.
The opening of the new lounge is part of ADR's efforts to improve its passengers' experience in Rome's airports, and joins other initiatives which have allowed Leonardo da Vinci to establish itself as the European hub most appreciated by travellers, according to official classifications by the Airport Council International.