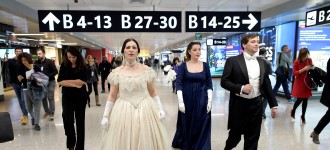 Opera music lands at the airport
Opera music lands at the airport for the first time, thanks to the partnership between ADR and the Teatro dell'Opera di Roma. An innovative programme of musical events for passengers in 2018
Two distinctive features of Italian cultural tradition known throughout the world, opera and bel canto, have made their way to Leonardo da Vinci airport. Thanks to a partnership between Aeroporti di Roma and the Teatro dell'Opera di Roma, passengers departing from and arriving at Fiumicino in 2018 can attend a series of opera performances in costume right in the Terminals. They will be taking part in a musical and artistic experiment that is original and greatly innovative.
The initiative was launched this morning with a flashmob in Terminals 1 and 3 at Fiumicino, where the talents of "Fabbrica Yap" of the Teatro dell'Opera di Roma, wearing their stage costumes, sang pieces from "La Traviata", "Tosca" and "Aida" for a large crowd. Italian and overseas travellers and tourists were left absolutely astounded by the performance in an unusual and original location.
Particularly intrigued were international passengers and tourists from Boarding Area E for Non-Schengen flights, mainly Americans and Chinese, who, on several occasions applauded the two sopranos Erika Beretti and Valentina Varriale and baritone Timofei Baranov, accompanied at the piano by maestro Edina Bak. Arias by great composers rang out through the airport terminals in Fiumicino, giving passengers an emotional listening experience, an exceptional souvenir from Italy, and Rome in particular.
The partnership between ADR and the Teatro dell'Opera di Roma further strengthens the culture and entertainment offered by the Leonardo da Vinci airport to its passengers. Thanks to the collaboration with key institutions and cultural bodies in Rome - including the Accademia di Santa Cecilia, the Auditorium Parco della Musica and the Parco di Ostia Antica - the capital's airport has been transformed into one of the main locations to promote, at a national and international level, the artistic activities and initiatives held in the city.
Over the coming days, Christmas festivities at Fiumicino will see additional entertainment initiatives - such as the gospel singers on 21 December - to celebrate Christmas with the airport's international passengers. This particular and innovative strategy to welcome and entertain passengers reaffirms Fiumicino's pole position in the third quarter of 2017 in the Airport Council International's European classifications for quality services.
COMPLETE PROGRAMME
DEPARTURE AREA B, AT 12:30
Valentina Varriale, Timofei Baranov
from La Traviata, Giuseppe Verdi
Violetta and Giorgio Germont: Madamigella Valery…Pura siccome un angelo
Giorgio Germont: Di Provenza il mar, il suol
Erika Beretti
from Tosca, Giacomo Puccini
Vissi d'arte
Erika Beretti, Valentina Varriale, Timofei Baranov
from Così Fan Tutte, Wolfgang Amadeus Mozart
Soave sia il vento
DEPARTURE AREA E, AT 13:15
Valentina Varriale
from La Traviata, Giuseppe Verdi
Addio del passato
Erika Beretti
from Aida, Giuseppe Verdi
Ritorna vincitor
Timofei Baranov
from Poliuto, Gaetano Donizetti
Di tua beltade immagine
Erika Beretti, Valentina Varriale
Maria Wiegenlied, Max Reger