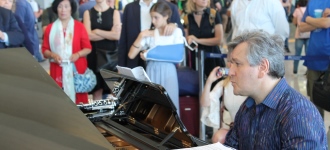 At T3 surprise concert by Pappano
The Director of the National Academy of Santa Cecilia, Antonio Pappano, performed an exceptional concert in one of the airport's most symbolic locations, between the statue of the Vitruvian Man. Many passengers were involved and enchanted by the piano performance which took place a few metres away from the check-in desks.
Italian and international passengers departing from Terminal 3 at Leonardo da Vinci airport were involved today in the new cultural entertainment initiative organised by Aeroporti di Roma, in partnership with the National Academy of Santa Cecilia. Travellers, from all over the world, were able to attend an extraordinary piano performance by Maestro Antonio Pappano, amongst the international flight check-in desks. Born in Italy but raised in England and the USA - where he took the first steps in his brilliant career - Sir Antonio Pappano played a magnificent grand piano, set up for the occasion by ADR in the middle of the Terminal 3 departures hall. Accompanying him was Alessandro Carbonare, Principal Clarinet of the Santa Cecilia Orchestra.
Enthusiastic passengers who attended marvelled at the excellent musical surprise. The programme involved the performance of three tracks: Romance no. 1 and Romance n. 2 for Drei Romanzen op.94 by Robert Schumann, delicate and salacious in nature, in which the piano and clarinet communicate with each other in an almost affectionate tone, composed by Schumann as a Christmas present for his wife Clara, at the end of 1849. The third piece in the programme, entitled Sholem – Aleckhem, Rov Feidman!, by Hungarian clarinettist Béla Kovács was performed in homage to the popular Klezmer tradition and is dedicated by Kovács to the great clarinettist Giora Feidman.
Many travellers filmed the performance and took selfies with Maestro Pappano at the end of the performance. The performance by Pappano is the peak of the airport's "Santa Cecilia on the fly" concert programme, which involves weekly events at the airport. The partnership with Santa Cecilia is part of the numerous artistic partnerships promoted by ADR to represent the Capital's cultural offer in the international showcase of Fiumicino airport.