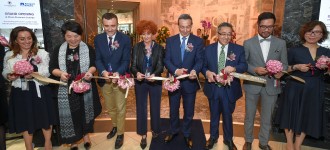 The new "Plaza Premium Lounge"
In Boarding Area E at Leonardo da Vinci international airport, the doors have been opened to the "Plaza Premium Lounge", a high-comfort lounge, with services available to all departing or transiting passengers.
The initiative is the result of a partnership between Aeroporti di Roma and Plaza Premium Group, a multinational based in Hong Kong, which was awarded the international tender to provide travellers to Non-Schengen destinations from Fiumicino with a multifunctional lounge designed to meet all passenger needs, from showers to work stations and private relaxation areas. The facility measures over 1,000 square metres, open 24 hours a day, 7 days a week, available on the second floor of Boarding Area, in the area known as "Italian Food Street".
A room where over 300 different types of seats are available, from armchairs to work desks and so-called "honey-combs": business stations where passengers can work in complete privacy.
The services offered include: a buffet with an express, open kitchen, where the chef can prepare quality dishes according to guests' tastes; a bar service; over 7,000 Italian and international newspapers in digital version; free Wi-Fi; numerous stations for charging devices. Plaza Premium Lounge also offers all passengers a space with private, spacious and very comfortable shower rooms, for
a unique service of its kind in Boarding Area E at Leonardo da Vinci.
Plaza Premium Group entrusted the design of the Lounge and furnishings to Kinney Chan, a renowned designer from Hong Kong. The aim is offer a highly comfortable travel experience during the time passengers have available before their journey. Access can be booked via the website www.plaza-network.com
"For Plaza Premium Group, the opening of the Lounge in Rome is extremely important", says Mr. Song, CEO of the Group "and we are pleased with our partnership with Aeroporti di Roma. This is our group's largest Lounge in the world, of strategic importance for our growth in Europe. In the future, we intend to increase the number of our facilities in other European countries. It was appropriate to have a presence in Italy, due to its history, cultural heritage and major tourist and passenger flows at Leonardo da Vinci Airport. Plaza Premium Group invested almost €3 million to construct the brand-new Plaza Premium Lounge at Rome's International Airport, an investment that shows the strategic importance of this asset in our development".
"Premium Plaza Group's decision to open its largest and most important lounge here at Fiumicino is the result of a strategic synergy between our two companies", says the CEO of Aeroporti di Roma, Ugo de Carolis. "We have worked together to provide the utmost attention to detail and confirm a globally unique standard of services. Partnerships like this are possible, partly due to the records achieved by ADR in terms of quality, certified by the acknowledgements of ACI World and Skytrax, which have now reached international visibility".