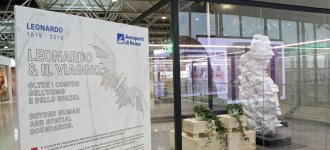 Sculptures on display at Fiumicino
From today, the artists who made it to the final round of the art contest organised by ADR will complete their works at Terminal 3's Terrazza Roma
From today, six transparent workshops will host the six sculptures that made it to the final round of the art contest organised by ADR for the 500th anniversary of the death of Da Vinci. The artists will complete their sculptures live at the airport and the final pieces will then be put on display in boarding area E. The initiative has legal roots (Law no. 717 of 29/07/1949): when an infrastructure is created that is partially funded by the public, a percentage of the investment must be allocated to the architectural enrichment of that infrastructure that involves the creation of works of contemporary art in particular.
The competition notice, published in June and spread o
ver art and culture websites, was aimed at Italian and foreign artists belonging to the Young category (i.e. less than 40-year-old) and the Over category (i.e. over 40-year-old). From a technical point of view, the art pieces were required to be sculpted from white marble from the Apuan Alps, with specific limits concerning dimensions and weight.
Each artist delivered a graphic design inspired by the theme "Leonardo & il Viaggio. Beyond Human and Spatial Boundaries". In order to best represent the spirit of Da Vinci's genius, the concepts of freedom, speed, dynamism, technology and innovation had to be conveyed in the works, as well as the precise and analytical study of human body as a tool. to surpass the limits of man and space.
The six artists, chosen by a committee of experts, have completed 90% of their work in their own workshops. The sculptures will be finished live in the workshops installed in the mezzanine of Terminal 3, situated in the departures area that is open to passengers, escorts and visitors.
Once completed, the works will remain on display in their workshops at the airport for a period of time. During this phase, passengers will be able to vote for their favourite sculpture through the dedicated website. The sculptures will later be transferred to Pier E, where the final prize-giving ceremony will be held for the winner of each category, Young and Over, based on the jury's second evaluation.