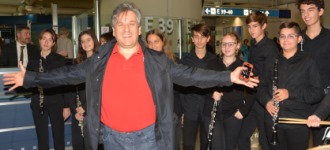 Fiumicino: surprise performance
The instrumental ensemble charms departing passengers in area E. Passengers witness pre-flight 'flashmob' ahead of the Orchestra's US tour with conductor Pappano.
A morning of performance and culture at Leonardo da Vinci airport. A little before 9am, passengers in the new international area E witnessed an extraordinary instrumental performance by the JuniOrchestra from the Accademia di Santa Cecilia. Just before boarding their flight to the United States, the musicians, and conductor Pappano, pulled out their instruments for a surprise per
formance, to the delight of fellow passengers.
A sort of sneak preview to the Santa Cecilia artists' tour, which will commence on 25 October in the United States – a whole 48 years after the last American performance. From the second half of November, on the other hand, the Accademia's new concert season begins at Fiumicino airport, in collaboration with Aeroporti di Roma.
The concert programme in the Terminals will occur weekly until May 2018. In particular, Thursdays will see Fiumicino again host the Accademia di Santa Cecilia's JuniOrchestra and Choir pupils, with special participation from orchestra players and choir singers, with performances on the pianos installed by ADR in Terminal 1 (boarding area B), Terminal 3 (boarding areas D and E) and the baggage reclaim area.
This collaboration between ADR and the Accademia Nazionale di Santa Cecilia is now in its third edition. The initiatives – of great artistic and musical quality – are entirely unique in Italy, organised in the main national airport and highly appreciated by passengers. The excellent musical and cultural entertainment is an integral part of Aeroporti di Roma's commitment to offering quality services to passengers during their time in the airport.