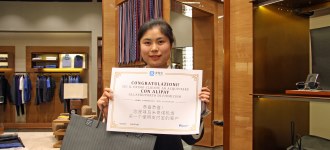 At Fiumicino lands Alipay
An even more "Welcome Chinese" airport, thanks to the introduction of a new payment method, the digital platform–the upshot of cooperation between ADR, Alipay, Lagardère Travel Retail Italy and Unicredit.
As and from today, Alipay is operative at Fiumicino. This is China's most popular online payment App, with over 450 million active users and is operated by Ant Financial Services Group, a related company of Alibaba Group.
The starting point of the initiative is the Ermenegildo Zegna store in boarding area E, the 90,000 square metre infrastructure for extra – Schengen flights, through which pass Chinese passengers arriving and departing from Rome – and will gradually involve all the other airport shops.
The first digital payment made with Alipay occurred this morning at around 11 am. The buyer was a Chinese passenger, who received a special plaque of thanks from the CEO of Aeroporti di Roma, Ugo de Carolis, from the CEO of Lagardère Travel Retail Italy, Lucio Rossetto, from the Manager for Central Italy of Unicredit, Giovanni Forestiero and from the Italian Market Development Manager of Alipay, Pietro Candela.
Fiumicino has therefore become the first Italian airport – and among the first at international level – to welcome Alipay, a payment system tailored to the needs of Chinese passengers, thereby further strengthening its European record for attracting and welcoming such an important segment of passengers.
The Leonardo da Vinci Airport is the European hub with most flights from and to China.
Ten Greater China destinations are directly linked to Rome, thanks to seven airlines. In 2016, over 680,000 passengers flew between the Capital and the Greater China area, 30% more than in 2015 (480,000 to/from China, + 51% compared to 2015). In the first quarter of 2017, traffic from/to China grew by 31% compared to the same period of last year.
As and from today, the new boarding area E, where a personal shopper service is already available, with a dedicated Chinese language guide book for airport purchases, represents an even more welcome setting for shopping. According to statistics, particularly appreciated by oriental travellers in the airport are the Made in Italy fashion products and the Mediterranean food and wine specialities.