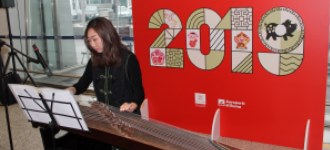 Chinese New Year at Terminal 3
The 'Year of the Pig' began today at the Fiumicino Airport with the celebration of the Spring Festival, known in the West as Chinese New Year, the most important celebration of the Middle Land, held in the Departures area of Terminal 3.
A roundtable was called together for the celebration. It was chaired by the Commissioner for Economic Development, Tourism and Labour of Roma Capitale, Carlo Cafarotti; the Director of the Consular Office of the Chinese Embassy in Italy, Zhang Aishan; the Business Development Manager of Alipay, Pietro Candela; the Business Development Manager of WeChat/Tencent Europa, Enrico Plateo; and by the General Manager of Welcome Chinese, Concetta Caravello, with representatives of the Chinese airline companies at Fiumicino and with all the passengers departing from Terminal 3. Fausto Palombelli, the Director of Marketing and Aviation Development for Aeroporti di Roma, moderated the series of discussions.
The primary subject of this meeting was Rome-China connectivity and the role of digital tools in welcoming Chinese tourism, for which Leonardo da Vinci is certainly the leading airport in Italy, partly due to the recent introduction of the WeChat Pay digital payment system that is combined with WeChat, the most popular instant messaging app in China. Fiumicino has an official account on WeChat, and it was the first Italian airport to use Alipay, a payment system customised for the needs of Chinese passengers. The Leonardo da Vinci Airport is thus confirmed as an important hub for attracting Chinese tourists to the capital city, as is also shown by its Platinum-level Welcome Chinese certification.
Following the discussions, there was the traditional Chinese tea ceremony, a ritual that includes selecting the tea, choosing the proper water, using the utensils elegantly, and the art of pouring and tasting tea. To entertain the passengers departing from Terminal 3, there were the enchanting notes of a musician playing the Guzheng, a typical stringed instrument in traditional Chinese music, who accompanied the entire ceremony.
These initiatives are part of the numerous activities already held by the airport management company to further strengthen its leading role in Europe in attracting and welcoming Chinese passengers and making their time at the airport even more comfortable.