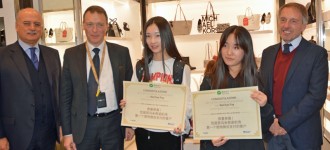 Fiumicino, Italy's first airport to accept this payment method, resulting from a partnership between Lagardère Travel Retail Italia, Aeroporti di Roma and WeChat
As of today, at Fiumicino Airport, Chinese passengers can make purchase via WeChat Pay, the payment service linked to WeChat, China's most popular instant messaging application.
The airport is becoming increasingly "Welcome Chinese" with the inclusion of this platform amongst its payment methods, resulting from a partnership with Natixis Payment, a company engaged in creating innovative payments such as digital transactions, which the airport's Lagardère group stores have joined, in addition to all Aelia Duty Free Stores, Relay, Montblanc, Pandora, Sunglasshut, Ermenegildo Zegna, Lacoste&Superdry, The Fashion Place and Michael Kors store for the fashion sector and Ajisen Ramen, located in the food court in international boarding area E, for the food sector.
The first WeChat Pay payment was made today, at the Michael Kors store, in the Tax Free Mall in boarding area E - a shopping area measuring over 10,000 m2, offering the most prestigious national and international brands excluding VAT at 22%. At the time of purchase, Chinese passengers were given a gratitude tag by Aeroporti di Roma's Aviation Marketing and Development Director, Fausto Palombelli, ADR's Sales Manager, Giorgio Moroni and Lagardère's CEO, Lucio Rossetto.
"With the activation of WeChat Pay at Fiumicino Airport, the first Italy and one of the few Europe to do so, ADR intends to consolidate its leading position in terms of customer experience for Chinese passengers", said Fausto Palombelli, Aeroporti di Roma's Aviation Marketing and Development. "These efforts have fully paid off in recent years, with the growth of the number of carriers operating between Rome and Greater China totalling 6 and with as many as 10 Chinese destinations directly connected to Rome".
"It is a real pleasure for us to be present today at the first purchase made with WeChat Pay, one of the most popular electronic payment systems in China", said Giorgio Moroni, Aeroporti di Roma's Sales Manager. "As of today, Fiumicino Airport will be enriched with a new electronic payment option fully dedicated to Chinese passengers. With this method, passengers will be quickly and securely able to make payments in their own currency."
Lucio Rossetto, CEO of Lagardère Travel Retail Italia emphasised the importance of the new payment system: "The primary and distinctive role of Lagardère Travel Retail is to build an offer tailored to the specific needs of the airport in which we operate in order to ensure the best service and the broadest purchase options. As of today, Chinese passengers at Fiumicino will be able to pay using the method that best suits them, be it a lunch at our Chinese restaurant, Ajisen Ramen, a fashion accessory or a Duty Free gift".
Shopping with WeChat Pay is very simple: the transaction is, in fact, structured so that Chinese passengers can pay comfortably in Renminbi (the currency of the People's Republic of China), whilst the store will receive the payment in euros.
Fiumicino, Italy's first airport to accept WeChat Pay, further strengthens the welcome also given to them by the Platinum level Welcome Chinese certification.

Leonardo da Vinci is the European hub with the most connections to and from China. Ten locations in Greater China are directly connected to Rome. In fact, in 2018, approximately 760,000 passengers flew between the Capital and Greater China, with a growth of +2% compared with 2017.