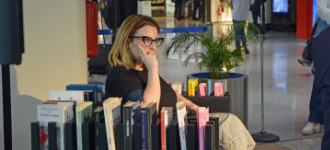 "Lìbrati" passenger bookcrossing
Teresa Ciabatti, Strega Prize 2017 Finalist, presented book "La più amata" to passengers at gates in Boarding Area B for Schengen flights
The calendar of new events with the general public's revered authors has begun. Authors will present their newest literary releases to passengers at Leonardo da Vinci Airport as part of the "Lìbrati" project. This latest cultural initiative launched before summer by Aeroporti di Roma is in collaboration with the Mecenate 90 cultural association – chaired by
sociologist Giuseppe De Rita – and the Centre for Books and Reading of Italy's Ministry of Cultural Heritage and Activities and Tourism. New events are due to start today.
Lìbrati will give passengers at Fiumicino a chance to meet their favourite writer just a few metres from their departure gate, and to contribute to the airport's bookcrossing activity. In the area used for the presentations, passengers can get comfy in a bookcase chair set up especially for the cultural event, browse the pages of a book left by another flyer or add novels to it for other passengers to read before their flight.
At today's meeting organised in Terminal 1's Boarding Area B, a number of curious flyers stopped to speak with Teresa Ciabatti. The author presented her book "La più amata", a title that came second place in the Strega Prize 2017. She signed copies of the novel for passengers, who used the moment to take a selfie with the writer.
Literary presentations in the airport will continue throughout the year, offering an additional occasion for cultural entertainment to those travelling from Leonardo da Vinci Airport. Follow the event using the hashtag #libratiFCO.