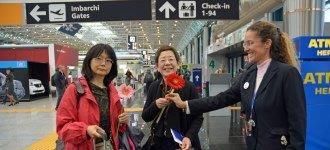 For the fifth year in a row, Aeroporti di Roma celebrates World Kindness Day in collaboration with ENAC – alongside Lyon and Naples airports. Daisies and smiles given to passengers
"Facciamo sbocciare la gentilezza" (Let the kindness bloom) is today's initiative organised by Aeroporti di Roma in collaboration with ENAC (the Italian Civil Aviation Authority) to celebrate the fifth edition of World Kindness Day at Fiumicino and Ciampino airports.
Organised alongside European airports Munich and Toulouse and Italian airports Bologna and Naples, the event was announced to passengers with posters and involved airport staff, thanks to the contribution of the Airport Helpers. This community of 1000 Fiumicino and Ciampino employees includes ADR voluntary staff and the numerous companies and businesses that operate in the airports. They provide voluntary assistance to passengers upon request by providing directions and useful information, in order to simplify their airport experience.
Recognisable for their identifying badge that reads "May I help you", throughout the morning Airport Helpers manned the kindness desks set up in both the departures and arrivals areas in Fiumicino and Ciampino airports, handing out flowery gifts and pastries to passengers.
This initiative is yet another of the entertaining occasions for passengers organised by ADR, which has made hospitality one of its main objectives in order to improve the quality of passengers' visits to the capital's airports.
Aeroporti di Roma, Company of the Atlantia Group, manages and develops the airports of Rome Fiumicino and Ciampino and undertakes other activities relating to and supplementing airport management. Fiumicino operates through four passenger terminals. It is dedicated to business and leisure clients on national, international and intercontinental routes. Ciampino is mainly used by low-cost airlines, by express couriers and for General Aviation operations. In 2016, the ADR airport system registered over 47 million passengers, with over 230 destinations across the world accessible from Rome thanks to around 150 airlines operating in the two airports.