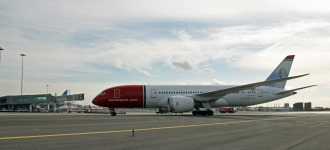 New low-cost flights to the USA
Today Norwegian launches its new low-cost intercontinental flights from Rome Fiumicino to the United States.The first flight took off for New York, and the first Rome-Los Angeles flight is confirmed for Saturday 11 November.
Norwegian, one of the best low-cost long-distance airlines in both Europe and the world, today launched its first intercontinental flight from Rome Fiumicino Airport over to the United States, to New York's Newark Liberty International Airport. The airline has been operating at Fiumicino since 2007, and transported more than 650,000 passengers in 2016.
From today, Norwegian adds to its operating base in Fiumicino with 2 new aircraft, Boeing 787 – 8 Dreamliners, with dedicated crew. It offers Italian customers new direct long-distance destinations with accessible and convenient timetables, services and costs for all passengers who dream of spending a few days in the shadow of the Empire State Building.
Starting this week, 4 flights per week will depart for the Big Apple, with prices starting from 179 euros, taxes included. These are added to the 100 flights already operating in the short and long-distance network, with 7 European cities linked to Fiumicino by Norwegian's Boeing 737-800 fleet: Copenhagen, Stockholm, Oslo, Helsinki, Gothenburg, Bergen and Tenerife. To celebrate the take-off of the first flight on the new New York route, today at Leonardo da Vinci a special ceremony was organised, attended by Thomas Ramdhal, Chief Commercial Officer of Norwegian and Fausto Palombelli, Chief Commercial Officer of Aeroporti di Roma.
"The long wait is finally over! From today, it will be possible to fly from Rome to New York with comfortable, fast and direct flights with absolutely low-cost fares," said Thomas Ramdhal, Chief Commercial Officer of Norwegian. "We are delighted to announce the launch of our first intercontinental route from Fiumicino: with this connection, our passengers will have a new flight opportunity to discover New York, one of the most beautiful and vibrant cities on an international scale. At the same time, we hope that our flights will further increase the incoming flow of tourism from the USA to Rome, a destination that is globally-renowned for history, the art of good living, and excellent cuisine."
"Choosing Fiumicino as an operating base for the launch of the new transatlantic flights by our partner Norwegian represents another important result in terms of developing air traffic towards the United States, the main country for traffic volumes in the long-distance sector," stated Fausto Palombelli, Chief Commercial Officer of Aeroporti di Roma. We hope that with this new business model, Norwegian will be able to intercept a wider market segment and promote new demand for direct links between Rome and the United States, a highly dynamic market that has already registered a growth of over 7% of passengers in the first nine months of 2017."
Norwegian's intercontinental flights will operate from the new Boarding Area E for non-Schengen flights, which has added to the quality offered by the airport, today top of ACI Europe's official classifications in terms of quality perceived by passengers interviewed in more than 300 airports all over the world. The new infrastructure of excellence for comfort, convenience, quality of shopping and range of food and wine has made a significant contribution to consolidating the airport's leading position; so too have the cultural entertainment initiatives for passengers before their flight.
But that's not all! Saturday 11 November will see the maiden flight for the Rome-Los Angeles connection (with twice-weekly routes), but passengers with their sights set on San Francisco will have to wait until 6 February 2018. For both destinations, fares start from 199 euros, taxes included.
One Boeing 787-8 Dreamliner is currently operating at Rome Fiumicino, which will be joined by an identical aircraft next February. With the addition of the second Boeing, the flight schedule to the USA will be even more extensive. In fact, routes have been planned 7 days a week to NY – Newark, 3 per week to Los Angeles and 2 to Oakland San Francisco.