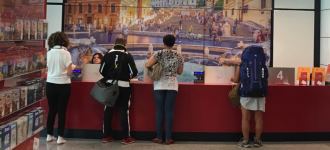 Opening of new Tourist Point
From today, passengers arriving at Leonardo da Vinci airport will be able to make use of the new "P.I.T. Tourist Information Point"opened by Roma Capitale in the International Arrivals area of Terminal 3. Better information, hospitality and services for international passengers arriving at T3.
The P.I.T., opens every day between 08:00 and 20:45, will constantly be staffed by personnel who have been specially trained to welcome tourists from all over the world, providing them with expert information on the capital, from the modes of transport available both to and from the airport, through to accommodation op
tions, from itineraries for either tourism or gastronomy, through to events and cultural entertainment on offer in Rome.
Using the P.I.T., visitors arriving at the airport will also be able to purchase the Rome PASS, the city's tourist card, or to collect cards purchased online on the dedicated website in advance, as well as the full range of travel documents for public transport run by ATAC, official maps of the city, entrance tickets for shows and cultural initiatives such as "Journeys through Ancient Rome – the Forum of Augustus and the Forum of Caesar" and other tourist services, such as tickets for the main Open Bus services.
The information point, situated in an ideal position for the flow of passengers in arrival at the airport, and which has undergone a complete upgrade, represents an additional long-term, high-quality service aimed at tourism, allowing this strategic segment to be offered efficient system information regarding Rome and Lazio's tourism industry.
"The creation of a new Tourist Information Point is an important step in the continued improvement of hospitality and in optimal management of the flows in which Roma Capitale is involved. We are confident that the introduction of this P.I.T. in the Arrivals hall of Terminal 3 will offer visitors arriving at the airport a service that exceeds their expectations. More spacious areas and a higher number of operators capable of giving assistance in 6 lang
uages help to increase the satisfaction levels and allow better communication of the rich variety on offer in the city, promoting sustainable, high-quality tourism that is capable of expanding its operating scope to include less well-known areas and attractions in Rome and Lazio.
On behalf of the government, I would like to thank Aeroporti di Roma and all those who are accompanying us on this journey: together, we have been able to translate synergy into concrete action", declares Adriano Meloni, the Councillor for Economic Development, Tourism and Labour.
"The main airport in Italy, with direct links to more than 200 destinations, has confirmed that it is the primary entry point both to the city and to the country," declares Fausto Palombelli – Chief Commercial Officer of ADR, "In this light, a redesigned Roma Capitale welcome point is certainly a further indication of an improved culture of hospitality, with the best of the city on offer right from when you first land at the airport. We would like to thank Roma Capitale for working together with us over the last months, which has allowed the PIT to be upgraded within a very quick timeframe."
Rome's Fiumicino Airport has seen more than 13.5 million international passengers pass through in the first 6 months of 2017, with particularly high growth rates for the North America (+4.7%), Central and South America (+20.0%) and Far East (+14.4%) markets.